*This post may have affiliate links, which means I may receive commissions if you choose to purchase through links I provide (at no extra cost to you). As an Amazon Associate I earn from qualifying purchases. Please read my disclaimer for additional details..
A bridal shower is a party for an engaged woman, celebrating her upcoming wedding.
Typically, the bride's close friends and family are invited. Sometimes even co-workers of the bride are also invited to a bridal shower.
You can think of it as a bachelorette party. As the wedding season starts, you will receive numerous invitations for bridal showers.
If you received an invitation to a bridal shower and you are not sure what to do, I'm going to tell you exactly how to respond.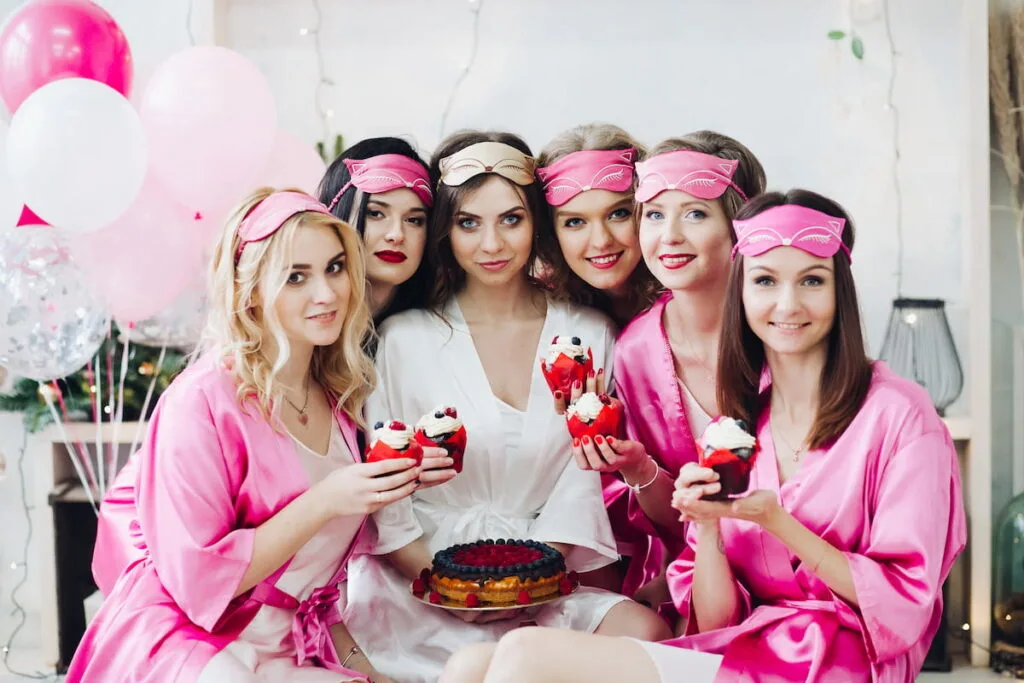 Do you rsvp to a bridal shower?
If you receive an invitation with RSVPs requested it is expected that you will respond to the invitation.
Even if the host didn't specifically RSVP, it is still considered proper etiquette to respond with a quick note.
If you are attending, make sure to let her know in time. Or send her your regrets if you cannot attend.
If you're not sure whether or not you can attend, please let the bride know your situation. She may be able to accommodate you as a 'maybe'.
RSVPs are important to your hosts. If they know many people will be coming, It's easy for the organizer to know what kind of food and drink to plan for.
So, be courteous about your RSVP and give the bride a little help by letting her know your situation.
When should you RSVP to a bridal shower?
Most invitations come with a time frame to respond. Make sure to reply within that time, if you know your situation it is even better to respond as soon as possible.
If you're not sure you can attend or if you have to check your schedule, respond with that information and let her know when you'll get back to them.
If the bride has a lot of people on her list maybe she will give you more time than she originally anticipated.
How to rsvp to a bridal shower?
Invitations usually come with information about how the host wants to be contacted. The bride will provide a phone number, e-mail, or address to respond by mail. You can respond by either mail, phone call, or a quick note.
Mail:
If the bride mailed you an invitation with an RSVP card, fill it out write a little note, and return it in the postage-paid envelope. Make sure you post it early enough, so it will reach the bride in time.
E-mail:
It's right to respond with an email if you receive an invitation through it. If you're able to send an e-mail, do it the same day.
Phone call:
Some people find it easier to give a quick response over the phone. If you are provided with a phone contact for RSVP, give your host a quick call and share regrets and anything else you'd like to include.
Text:
Texting is not a favorite method to RSVP. It's not appropriate to respond with a text. But if you are provided with the contact information for a text specifically, it is still okay.
Ways to respond to a bridal shower invitation
Before composing your message, sit and give it a thought what do you want to share with the bride?
If the bride is a friend of yours, write more fun, lighthearted and personal responses. Or You can format a formal response if the bride is a co-worker or acquaintance. Keep it short and sweet.
3 Ways to respond if you ARE going:
1. Thank you for inviting me to your bridal shower! I will be attending and have marked the date on my calendar.
I really look forward to meeting you. See you soon.
2. I am coming to the bridal shower and I'm so excited to celebrate you being a bride-to-be. Let me know if you need any help.
Hugs and wishes.
3. Thank you for the invitation. I am so happy to be celebrating your upcoming wedding. It will be a fun day.
Wishing you many blessings.
Ways to respond if you are NOT going
If you're not attending it is best to send a quick note declining the invitation.
Be kind and courteous, and thank her for the invitation. It is okay to include a personal message. Let her know that, you hope she has fun at the event.
Thank you very much for including me in your bridal shower. Unfortunately, I am not able to make it.
However, I truly wish you joy and happiness as you embark on this new journey of marriage.
I'm sorry, I will be unable to attend the bridal shower. But please accept my best wishes for an amazing celebration with your friends and family.
I regret that I cannot be there for your shower, but I wish you the best on this wonderful day!
Somethings to remember:
If you have accepted the invitation, always attend the event. your host has made efforts to organize and send you an invitation. So, it would be great for you to come to her event.
Let the host know if there's a change of plans be sure that she or he won't worry about you not showing up.
If you kept the response on hold, respond as soon as you can.
Don't forget that the bride is having fun planning her event, and she will be excited to hear from you about it.
Sources: